Welcome Message
WELCOME MESSAGE -
It is with immense pleasure and an honour to extend you a warm invitation to attend the International conference on Clinical Toxicology and Pharmacology 2018 that provides a wonderful forum to refresh your knowledge base and explore the innovation. The Conference strives to provide you the opportunity to meet and interact with leading scientists, researchers, friends, colleagues, sponsors, exhibitors and undergraduates over the globe to convey a universal conference for the proclamation of unique research result, new findings, and functional change experiences.
It would be exciting, challenging, and a rewarding experience to our audience where the sessions will have topics of interest in toxicology, neurotoxicology, toxicopathology, cardiovascular toxicology, toxic effects on haemostasis, toxic effects on liver and kidney, environmental toxicology, forensic toxicology, immunotoxicology, genetic toxicology, molecular toxicology, applied pharmacology, toxicity testing, toxicology and risk assessment(TRA), toxicology applications, major concepts of clinical toxicology its everyday challenges and solutions from all perspectives.
VIENNA
THE ROMANTICALLY IMPERIAL CITY
Vienna, Austria's capital known for its Imperial palaces, wine yards, cool cafe's, the Danube River. Whose artistic and intellectual legacy was shaped by residents including Mozart, Beethoven and Sigmund Freud.
The Habsburgs' summer residence, Schönbrunn, Museumsquartier district, historic and contemporary buildings display works by Egon Schiele, Gustav Klimt and other artists, the Vienna State Opera presents numerous productions yearly and hosts the annual Vienna Opera Ball, one of a series of glittering city events and the elegant Ring Road around the Innere Stadt district features government and public buildings including the 18th-century Burgtheater. The Hofburg Imperial Palace with lavish Habsburg apartments and hosts displays by the Spanish Riding School's renowned Lipizzaner stallions. A symbol of the city Gothic St. Stephen's Cathedral sports a colorful tile roof. The Wiener Riesenrad Ferris wheel in the Prater park with far-reaching rooftop views.
The theme Investigating Toxic Mysteries for Healthy Living and a Better Life of 2018 Conference will underpin the need for collaboration and cooperation of individuals from a wide range of professional backgrounds, there shall we expect you to join us for a symphony of outstanding science and take a little extra time to enjoy the spectacular and unique beauty of this region.
With best wishes,
CLINICAL TOXICOLOGY AND PHARMACOLOGY 2018, ORGANIZING COMMITTEE
DATE: 15, 16, 17 OCTOBER 2018
VENUE: VIENNA, AUSTRIA.
About Conference
Allied Academies welcomes you to the International Conference on Clinical Toxicology and Pharmacology which is scheduled during 15-17, October 2018 at Vienna, Austria. Clinical Toxicology 2018 focus on the theme "Investigating Toxic Mysteries for Healthy Living and a Better Life".
Scope and Importance:
Toxicology is the study of adverse effects that occur in living organisms and its environment due to chemicals, physical or biological substances. Toxicology testing regulations are already in place for most of the developed countries across industries such as chemicals, pesticides, consumer goods, medical products, food additives. These toxicology tests are important for the approval of products and with the increased trend, toxicology studies are outsourced across the industries.
Why to Attend???
International Conference on Clinical Toxicology and Pharmacology gives you the chance to listen to different points of view and learn new ideas and trends in Clinical Toxicology. It will also provide you with new techniques, new types of equipment, data that is yet to be published and investigators that you may not have heard of.
You can also present your work to the scientific circles and it helps to improve your work by getting feedback from the experts and influencers in Clinical Toxicology and Pharmacology. It is also a great opportunity to connect with attendees from different perspectives and views, learn from them, make new relationships and strengthen the existing ones.
Moreover, you can discover Vienna where the conference is being held and enjoy the unique beauty.
Target Audience:
Toxicology Researchers, Pharmacology Professionals, Pathology Researchers, Genetic Researchers, Academicians and Industrialists, Students and Young Researchers, Toxicology Societies and Association People, Toxicology testing labs, Toxicology Expert Witness, FDA Consultants, Preclinical CRO.
Come and get assisted !!!
Scientific Tracks/Sessions
We invite you to the
International
Conference on Clinical Toxicology
and
Pharmacology
which will be held amid 10-12 September 2018 at Paris, France.
Clinical Toxicology
2018 will unite driving Toxicologists, Pharmacologists, Principle Examiners, Researchers and different modern experts to talk about the current progressions in
Clinical Toxicology
.
Clinical Toxicology deals with adverse effects and diseases spawned by the toxins to the human body. The various sciences collateral to clinical toxicology is pharmacology, biochemistry, and pathology. Clinical toxicology is the discipline that can be practiced not only by physicians but also other health professionals such as physician extenders (physician assistants, nurse practitioners), nurses, pharmacists, and allied health professionals. Therefore, this session in Clinical Toxicology would be very helpful to gain more information and take precautions for a healthy living.
Toxicology is the logical field worried about the discovery, assessment, and aversion of the poisonous impacts of substances that people are exposed to. Toxicology is a discipline, overlapping with biology, chemistry, pharmacology, and medicine, that involves the study of the adverse effects of chemical substances on living organisms and the practice of diagnosing and treating exposures to toxins and toxicants. Therefore, at Clinical Toxicology this session will deal with the several factors that influence the chemical toxicity.
Neurotoxicity is an unfavorable change in the science, structure, or function of the sensory system following subjection to a physical or a chemical operator. Advances in our understanding of the structure and function of the nervous system have accelerated the development of chemicals for treating diseases such as Parkinson's syndrome, Alzheimer's disease, and mild depression. However, some drugs may produce undesirable nervous system side effects that can limit their utility in disease treatment. The anticancer drugs vincristine and cisplatin damage sensory nerves in the fingers and the antibiotic gentamycin can affect hearing.This session at Clinical Toxicology would help in investigating the thoughts with respect to neurological and behavioral impacts of introduction to toxic substances.
Toxicopathology is the investigation of auxiliary and practical changes in cells, tissues, and organs that are caused by toxicants, (for example, drugs, industrial and agricultural chemicals), poisons (chemicals of natural origin, for example, mycotoxins and phycotoxins), and physical operators, (for example, heat and radiation); the investigation of the mechanisms by which these changes are induced; and the development of risk assessment and risk management policies based on such information. Toxicologic pathology primarily deals with the morphologic or structural effects of the toxicant and the mechanism by which this structural effect is induced.In this session, we can gain an overall knowledge of how different chemicals affect the cells, tissues, and organs in the human body at Clinical Toxicology.
Cardiovascular Toxicology manages the antagonistic impacts on the circulatory system which result from the introduction to harmful chemicals. It depicts security information of hindering impacts of new cardiovascular drugs. Organophosphates affect myocardial peripheral nerves as well as central nervous system centers controlling heart rhythm. As such, it is known that the toxic consequences of excess acetylcholine can lead to cardiac slowing, arrhythmias, and sudden cardiac death. Organochlorines such as lindane, endosulfan, Methoxychlor, and dicofol are frequently used in the United States. This type of pesticide must be known to produce hypertension and tachycardia with associated arrhythmias. Pyrethroids are synthetic neurotoxins used as insecticides. It inhibits the enzyme Na+ K+ -ATPase and affects Na+ channels of excitable tissues. Utilize Clinical Toxicology scientific platform to know more about the cardiovascular diseases caused by chemical toxicants.
Haemostasis is the first stage of wound healing where the bleeding from the wound stops. If hemostasis does not happen it can cause continuous loss of blood which may lead to the death of the person.It has long been known that the liquid monomer component of Methyl Methacrylate (MMA) is cytotoxic. Implantation of acrylic cement in human beings has repeatedly been reported to be associated with fatal cardiorespiratory collapse. There appears to be a higher incidence of deep vein thrombosis (DVT) and proximal DVT after cemented hip and knee joint replacements compared to non-cemented total joint replacements. Non-aspirin Nonsteroidal Anti-Inflammatory Drugs (NSAIDs) create a foundational bleeding tendency, in this manner blocking development of thromboxane A2. Besides, the danger of systemic bleeding with NSAIDs is increased by the use of liquor or anticoagulants, and by related conditions, including propelled age, liver sickness, and other hemorrhagic diatheses. Because of the expanded danger of bleeding in such patients, acetaminophen or different analgesics that don't influence platelet capacity ought to be substituted for NSAIDs at whatever point conceivable. Be a part of Clinical Toxicology to get detailed knowledge about how the toxic substances influence bloodstream and hemostasis.
The liver is the essential site of biotransformation and detoxification of xenobiotics. Clinical introductions of dangerous liver damage run from sluggish, regularly asymptomatic movement of the impedance of hepatic capacity to fast improvement of hepatic failure. The kidneys are displayed to exogenous or endogenous xenobiotics in their part as basic protections against unsafe xenobiotics entering the blood framework. Natural solvents and substantial metals are two noteworthy classes of toxicants known to antagonistically influence renal capacity. Stimulants like amphetamine and Ecstasy cause a body to preserve urine. The pressure or preserved urine can back up all the way to the kidneys, resulting in kidney failure or even heart attack. Moreover, toxins build up in the blood can cause confusions and headaches. Ecstasy, amphetamine and methamphetamine abuse has been shown to cause chronic liver inflammation (hepatitis). The use of Ecstasy can trigger sudden and severe hepatitis that results in liver failure and death, even days or weeks later. Explore yourself into this research platform to know more about the harmful effects on liver and kidney caused by few medications which you might use in your everyday life at Clinical Toxicology.
Biotic and abiotic processes contribute to the degradation of chemicals. The biotic degradation occurs through microorganisms whereas abiotic degradation occurs by hydrolysis and photolysis.

Ecological degradation

of chemical

contaminants

can happen at enormously quickened rates through the activity of microorganisms. Microorganisms (principally bacteria and fungi) debase chemicals in a push to get vitality from these sources. These biotic degradative procedures are catalyst interceded and normally happen at rates that far surpass abiotic debasement. Biotic degradative procedures can prompt finish mineralization of chemicals to water, carbon dioxide, and basic inorganic constituents. For a better understanding of

environmental chemicals

and its harmful effects on nature let's gather at

Clinical Toxicology

.
Forensic toxicology

is a piece of the science of

pharmacology

, which is worried about the amounts and impacts of different medications and

toxic substances

on individuals. In

forensic toxicology

, the primary intrigue is the degree to which medications and

toxins

may have added to disability or death. The synthetic makeup of every substance is contemplated, and they are additionally distinguished from various sources, for example, urine or hair.

Forensic toxicology

deals with the way that substances are absorbed, distributed or eliminated in the body – the metabolism of substances.

While there are numerous utilizations for

forensic toxicology testing

, the most well-known one to a great many people is probably going to be medication and alcohol testing. This kind of testing is usually performed in the transportation business and in working environments. Another utilization is for

sedate overdoses

, regardless of whether these are planned or inadvertent. This session at

Clinical Toxicology

would talk about how the overdose of various medications and prescriptions prompt weakness or demise of people.
Organic solutions can conceivably cause unfriendly medication responses identified with immunosuppression, immune stimulation and excessive sensitivity. These incorporate cytokine discharge related intense responses including the creation of pro-inflammatory cytokines. The clinical signs can go from influenza-like responses to more extreme Cytokine Release Syndromes (CRS). Immunotoxicology is the investigation of an undesired tweak of the immune system by extraneous variables. Toxicological evaluations have shown that the immune system is a target following introduction to an assorted gathering of xenobiotics including ultraviolet radiation, synthetic toxins, therapeutics, and recreational medications. There is a settled purpose and impact connection between concealment of the immune response and diminished protection from diseases and certain kinds of neoplasia. In people, mellow to direct concealment of the immune response is connected to lessened protection from normal, group gained diseases, though astute contaminations, which are extremely uncommon in the all-inclusive community, are basic in people with serious concealment. To have a detailed study and get research ideas on Toxicology and it's harmful effects on immune system join us at Clinical Toxicology.
The

genotoxic substances

incite harm to the genetic material in the cells through connections with the DNA grouping and structure.

Genetic toxicology

is the investigation of the impacts of chemical and physical operators on genetic material. Genetic Toxicology also incorporates the investigation of DNA harm in living cells that prompts malignancy, however, it likewise looks at changes in DNA that can be acquired starting with one generation then onto the next.

It is a perplexing science since there are various distinctive sorts of genome harm, which emerge through an assorted variety of systems: Chromosomes may be broken (clastogenesis), the data inside a DNA succession may wind up plainly modified or re-organized (mutagenesis), entire chromosomes may be missegregated (aneugenesis), there can be a trade of areas of chromosomes which can change gene regulation(

recom

bination). To find out about

Genetic Toxicology

which harms the genetic material and share your research ideas let's gather at

Clinical Toxicology

.
The Molecular Toxicology claim to fame segment is keen on the molecular mechanisms whereby chemicals cause harmfulness. There are a few explanations behind this intrigue. Right off the bat, mechanisms of toxicity can reveal central parts of science. Hence, poisons, for example, cyanide and rotenone were utilized to reveal the presence of the Krebs cycle, a focal segment of cellular energy metabolism. Programs in the field of molecular toxicology study the effects of chemicals on living microscopic organisms.This form of toxicology examines both naturally occurring and synthetic chemicals. Also considered are the effects of genetic, physiologic and environmental factors on organisms. Join your peers in Clinical Toxicology to gain a better understanding regarding molecules, it's interaction with biomolecules and various molecular methods which aims at preventing toxicity and enhancing our understanding of health risk assessment.
Applied pharmacology enables the doctor to expand his insight into the theoretical pharmacology of a medication to the way the medication would really work in restorative practice. It likewise manages the utilization of medications, or how pharmacological data could be connected to the therapeutics. Therefore, it is very well related to Clinical Toxicology. Applied pharmacology makes it conceivable not exclusively to disclose to the specialist or another medicinal expert the activity of medications in the human body, but at the same time is imperative in assessing the adequacy of medications in a specific sickness condition. Regardless, connected pharmacology can be useful in following zones: Help survey information got from clinical examinations and associate it with clinical techniques, provide clarification for various medications having related pharmacological activity, provide clarifications about drug interactions, explain the activity of different drugs on the different organs in the body when they are in an ailing state, with symptoms, contraindications and so forth. This session at Clinical Toxicology would be helpful to understand the relation between Applied Pharmacology and Toxicology and different drug classes.
Toxicological tests measure the impacts of a constrained exposure of a creature to a substance (acute toxicity) and in addition rehashed, long-haul exposure (chronic toxicity). Substances are likewise tried for more particular endpoints, for example, cytotoxicity (capacity to harm cells), mutagenicity (capacity to cause changes in genetic material), carcinogenicity (capacity to cause tumor), and teratogenicity (capacity to cause birth defects). A toxicity test is designed to generate data concerning the adverse effects of a substance on human or animal health, or the environment. Many toxicity tests examine specific types of adverse effects, known as endpoints, such as eye irritation or cancer. Different tests are broader in nature, going from acute (single-exposure) concentrates to rehash dosage (multiple exposures) ponders, in which creatures are regulated everyday measurements of a test substance. Therefore, join us at Clinical Toxicology to learn more about different toxicity testing methods and recent developments in the same.
Toxicology Risk Assessment (TRA) gives a basic rundown of your items consistency with health and security measures and directions to guarantee worldwide market acknowledgment. Product manufacturers are endeavoring to react to the market requests and customer pressures for more secure items and more transparency. Customer marketplace demand, and in addition the legal prerequisite to give security data to clients, has made a need to have a toxicology hazard appraisal for assessing product safety. Toxicology Risk Assessment includes: checking to see if the product contains any banned, prohibited or restricted ingredients; determining if the product contains any carcinogen, mutagens, teratogens, reproductive toxins, endocrine disruptors, or other problematic chemicals at relevant exposure concentrations; determining the inherit safety profile of product ingredients; considering any potential misuse of the product; determining if the exposures to the product will produce any adverse health effects; completing a TRA that covers the standards, regulations or guidance documents to ensure your product is following safety guidance, advice or mandatory requirements. Therefore, this session of Clinical Toxicology will discuss the risk involved in different products available in the market and various ways to prevent the same.
Application of methodology and standards of

toxicology

is to prevent adverse health effect from drug candidates. The primary objective of

toxicology

studies is to evaluate the safety of potential drug candidates in the drug development process. This can be proficient by utilizing important animal models and approved methodology.

A definitive objective is to interpret the animal model reactions into a comprehension of the hazard for human subjects. To this end, the

toxicologist

must know about the international guidelines for safety assessment and additionally traditional and non-traditional

toxicology models

. The characteristic

toxicology

profile comprises of safety

pharmacology

,

acute and sub-chronic toxicology

,

chronic toxicology

, ingestion, distribution, digestion, and excretion studies,

genetic toxicology

,

reproductive and developmental toxicology

and an assessment of cancer-causing potential. With a specific end goal to think about the different applications in

toxicology

and the current headways in preventing

chemical toxicity

, we should assemble at

Clinical Toxicology

.
Market Analysis
Clinical Toxicology Market Analysis and Reports-
Based on global market research toxicology testing is estimated to be a worth of USD 14,343.01 Million by 2025 and is growing at a very high single-digit CAGR from 2017 to 2025. The ADME toxicology testing was valued at USD 6,986.20 Million in 2015 and is also expected to reach USD 14,319.9 Million by the year 2022, expanding at a CAGR of 10.6% from 2016 to 2022.
The toxicology global market is segmented into methods, industries, endpoint tests, and geography. Among various methods, the in vitro segment accounted for the largest share in 2017 and is projected to grow at a strong double-digit CAGR from 2017 to 2025 due to technological advancements, increased acceptance, and implementation of the 3R's. Based on industry, the toxicology services global market is segmented into pharmaceutical, medical devices, cosmetic, chemical and other industries. The pharmaceutical segment has the largest share of the market while cosmetic industry is growing at a very high double-digit CAGR from 2017 to 2025.
The fastest growing of all the segments in Toxicology market is recorded to be developmental and reproductive toxicology is also called as DART. North America region commanded the largest revenue in 2017. However, Asia- Pacific region is expected to grow fastest due to favourable government regulations and investments. Whereas the systemic toxicology segment has been accounted for the largest share in 2017 based on various endpoints and is projected to grow at a mid-single-digit CAGR from 2017 to 2025.
The North America In-vitro toxicology testing market is expected to reach USD 7.89 billion by 2021 from USD 4.19 billion in 2016, growing at a CAGR of 13.50% for the next five years 2016-2021. Europe In-vitro toxicology testing market is looking forward to reaching USD 8.40 billion by 2021 from USD 4.60 billion in 2016, growing at a CAGR of 12.80% for the next five years 2016-2021. Asia-Pacific In-vitro toxicology testing market is expected to reach USD 5.23 billion by 2021 from USD 2.48 billion in 2016, growing at a CAGR of 16.10% for the next five years 2016-2021. The In-vitro toxicology testing market in African and Middle East banks on to reach USD 3.41 billion by 2021 from USD 1.63 billion in 2016, growing at a CAGR of 15.92%, similarly the European market in toxicity testing seems to have a rapid growth based on the market scenario it is recorded that it is going to be a twofold replication i.e from USD 4.6 billion to USD 8.4 billion is the third largest growing medium in the world.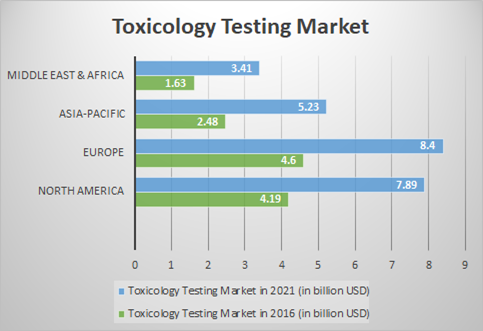 ADME is also called as Absorption, distribution, metabolism and elimination of chemicals or drugs. The process that describes the nature inside a human body, is therefore categorized into three major segments in-silico testing, in-vitro testing and in-vivo testing which is further classified into biochemical and cell i.e liver, kidney and intestinal based assays.
The two main compartments in the toxicology market is (I) influencing the performance of a drug towards human tissues; (II) toxicology testing before introducing a particular drug is increasingly becoming important.
The ADME toxicology testing methodology is widely used by all pharmaceutical and biotechnology companies for the development of new drug at a rapid rate and to minimize the drug discovery, testing and development costs day to day. Present day cell-based measures are receiving much acknowledgment and advancement worldwide that will drive this market in the coming future, major advancement in toxicology market is usage of computational interpretation for faster and accurate results.
North America holds the largest share and is expected to maintain its leadership position in future as well. The North American market is massively followed by the European market and their market leadership was attributed to the fact that the major pharmaceutical companies are resided in the U.S. and European countries. Asia-Pacific market is expected to observe the fastest rate of growth in the mere future due to increasing government support and collaborations with the foreign pharmaceuticals and research companies.
Major companies in ADME toxicology testing market -
Accelrys, Inc.,
Bio-Rad Laboratories, Inc.,
Agilent Technologies, Inc.,
Beckman Coulter, Inc.,
Caliper Life Sciences, Inc.,
Cyprotex PLC.,
Cellartis AB,
Life Technologies Corporation,
Molecular Discovery Ltd.,
Optivia Biotechnology, Inc.,
Thermo Fisher Scientific, Inc.
Major Companies in Clinical Toxicology -
Charles River Laboratories (US)
LabCorp (Covance) (US)
Enyigo (US)
MPI Research Inc. (US)
Eurofins (Luxembourg)
Wuxi Apptec (China)
SGS (Switzerland)
Merck KGaA (Bioreliance Inc.) (Germany)
Evotec (Germany)
Bureau Veritas (Maxxam) (France)
CMIC Inc. (U.S)
NAMSA (U.S)
Citox Lab (France)
Pharmaseed (Israel)
Intox Pvt Ltd. (India)
Target Audience -
Toxicologists
Pharmacologists
Investigative Toxicologists
Toxicology Research Professionals
Clinical Research Organizations
Academicians
Toxicology Students
Pharmacology Students
FDA Consultants
Principal Scientists, Toxicology
Principal Scientists, Pharmacology
Chemical Industries
Health Care Providers
Senior Science Directors
Toxicology consultants
Global Heads Of Toxicology
Other Industries
JOIN US IF YOU ARE ONE AMONG THEM !!!
Societies for Clinical Toxicology in Vienna –
The Austrian Pharmacological Society (APHAR)
Universities for Clinical Toxicology in Vienna:
Medical University of Vienna
Vetmeduni Vienna (veterinary university of Vienna)
Societies for Clinical Toxicology Globally –
Based on the international union of toxicology report,
Academy of Toxicological Sciences
American Academy of Clinical Toxicology
American College of Toxicology
Argentine Toxicological Association
ASIATOX
Australasian College of Toxicology & Risk Assessment
Australasian Society of Clinical and Experimental Pharmacologists and Toxicologists
Austrian Society of Toxicology
Bangladesh Society of Toxicology
Brazilian Society of Toxicology
British Toxicology Society
Bulgarian Toxicological Society
Cameroon Society for Toxicological Sciences
Chinese Society of Toxicology
Colombia Society of Toxicology
Croation Toxicological Society
The Danish Society of Pharmacology, Toxicology and Medicinal Chemistry
Egyptian Society of Toxicology
Estonian Society of Toxicology
European Association of Poison Centres and Clinical Toxicologists
EUROTOX
Finnish Society of Toxicology
French Society of Clinical Toxicology
French Society of Toxicology
German Society of Toxicology
Hellenic Society of Toxicology
International Neurotoxicology Association
Iranian Society of Toxicology
Irish Society of Toxicology
Israeli Society of Toxicology
Italian Society of Toxicology
Japanese Society of Toxicology
Korean Society of Toxicology
Latin American Association of Toxicology
Latvian Society of Toxicology
Malaysian Society of Toxicology
Mexican Society of Toxicology
National Society of Toxicology, Nepal
Netherlands Society of Toxicology
Nigeria Society for Toxicological Sciences
Norwegian Society of Pharmacology and Toxicology
Polish Society of Toxicology
Portuguese Pharmacological Society
Portuguese Toxicology Association
Russian Society of Toxicology
Serbian Society of Toxicology
Slovenian Society of Toxicology
Sociedad de Toxicologia de Chile
Society of Hungarian Toxicologists
Society of Toxicology of Canada
Society of Toxicology, India
Society of Toxicology, USA
Spanish Association of Toxicology
Swedish Society of Toxicology
Swiss Society of Toxicology
Thai Society of Toxicology
The Toxicology Society of South Africa
The Toxicology Society of Taiwan
The Turkish Society of Toxicology
Toxicology Cuban Society
Toxicology Society, Singapore (TSS)
Ukrainian Toxicology Society